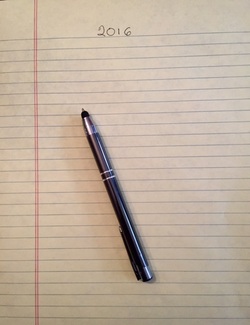 As the year 2015 gradually recedes into a year to be referred to in the past, as it becomes an historical reference as to its gains and losses, appointments and disappointments and whatever it allotted us or denied us, we start to expect the beginning of a new chapter in the new year.

The New Year is like a new page in a yet unwritten book, a fresh page, a blank page with mysteries that we only hope would be kind to us. However, in spite of the enigmatic texts that the blank pages of the new book might contain, we are co-authors of the pages and we can start writing what we want to fill the pages now. The New Year, though fresh is just a continuation of the days past, calibrated to give us a fresh start and number our days.

Whatever goals we want to achieve in 2016, it is advisable to start writing them down now, to start filling the blank pages, even before the pages are turned. I started writing down my goals for the year in 1996 and have been doing it every year since then. It is amazing to report that more than 90% of those goals were met, some goals were partially met, while some were wholly fulfilled and more.

For instance, I accomplished all the goals on my 2015 list, most before October, some seemed impossible at the beginning of the year, but one way or the other, events colluded in my favor to make those dreams a reality. Writing down your goals in expectation of filling the blank pages of the New Year is an act of faith, it is a declaration to the universe that you are ready for the New Year and are willing to dictate to it and not just wait for its handouts. When you make these declarations and release this faith energy into the universe, as Paul Coelho describes in the best seller, "The Alchemist" the universe will conspire in your favor to make them happen.

This suggestion might seem trite and unrealistic, some might even argue that it is just wishful thinking, but from personal experience and those around me that practice this, I can boldly say it is a tested process that works.

Here are things to consider when writing down your aspirations for the New Year:

1. Be Realistic: Make the goals simple and realistic and not some lofty pie in the sky aspiration. For instance, don't write that you want to become a doctor by the end of the year, when at the moment you do not have a high school diploma. You might write down lofty goals that might be achievable in years to come with the hope of starting the process in the coming year. In my experience, goals that seemed lofty ten years ago when I wrote them down became actualized decades later.

2. Be Disciplined: You have to be willing to work towards the goals. You have to be ready to hustle to make the goals become real. The universe will conspire in your favor to make things happen only when you have sown the seed into the universe. For instance, you cannot hope to earn a college degree, when you are not currently enrolled unless it is an honorary degree or one of those microwave doctorate degree they sell online to the vanity seekers of such honors without the work.

3. Believe: The process is an act of faith. Write down the goals that you believe you can achieve. If at the onset, you do not believe that it is possible, no universe or favor will conspire to actualize it.

4. Be willing to Own the Goals: Take responsibility and ownership of what you have to do to turn your dreams to reality. There will be excuses as to why you cannot achieve some goals, find legitimate ways around your excuses. If it is lack of time, create the time. Change the word "I can't because…" to "I won't because…" when you do this, you realize that it is a question of the hierarchy of your priority, you work towards and make time for what you prioritize.


5. Be Date-Specific: Set a target date for some goals. For instance, you can set a target of losing ten pounds by February, 2016. When you set a deadline, you mentally set yourself up to accomplish the goal(s) within the time frame.


Sometimes, the universe might even conspire to actuate the deadline. At the end of last year, in my 2015 goal, I wrote that my book should be published by August 2015. Although, the digital version was released in June 2015, the paper version and official launching of the book was August 1, 2015. I didn't even realize the significance of this date until I took inventory this month and realized that my book was launched on the first day of the month I had set. It should be noted that this deadline was not considered when the launching was being planned, and I did not unilaterally fix the date. The universe conspired to actualize the seeds of faith I had released into the universe prior to the beginning of the year.


6. Be Bold and Ambitious: Aspire for levels you have not attained before. It is alright to be ambitious, so be bold with your aspiration because life will only give to you according to the measure of your demands.

7. Be Ready to Have a Happy and Productive New Year.